The Practice
Brindabella Equine Mobile Veterinary Service is a new, modern, ambulatory (mobile) horse vet practice located in Murrumbateman NSW.  We pride ourselves on being experienced equine veterinarians who are able to offer a reliable, personal and professional service.
BEMVS was founded in 2010 and in a very short time has rapidly expanded to service the discerning client and their horses.  The practice is based in Murrumbateman (close to the NSW/ACT border) with the vet centre on acreage, and the ambulatory practice servicing the greater Canberra region and Southern NSW including Murrumbateman, Yass, Royalla, Michelago, Cooma, Bywong, Bungendore, Gundaroo, Goulburn and other areas.  As a dedicated large animal practice, our focus is predominantly on horses, however we can also provide professional veterinary services for camelids (alpacas and llamas), donkeys and ruminants (cattle and sheep).  We can provide on-farm annual health checks, vaccinations and heartworm prevention for dogs and cats. Our passion is preventative medicine in horses which includes a large amount of equine dentistry (both as routine cases and more complex cases referred from other practices).
The ambulatory clinic consists of two fully stocked 4WDs, and a portable crush.  We have all the equipment you could expect from a large practice, including a state of the art digital xray machine, ultrasound machines, endoscope, all surgery equipment, medications and wound treatments, freeze branding gear and a complete range of dental equipment including extraction tools.
One of the advantages of using BEMVS is continuity of care, and great, personalised service.  Our vets are able to offer a comprehensive equine veterinary service to cater for your individual needs.  This means a superior continuity of care and a person who is familiar with you and your horse at all times.  Our X-rays are stored as digital files, meaning that they are accessible at all times.  Lab results are emailed directly to our practice, ensuring that results can be conveyed to owners immediately.
BEMVS is able to offer the very popular mobile EFTPOS machine, and can accept payment via EFTPOS, credit card, cheque (by prior arrangement) or cash.  Please note that payment is strictly required at the time of consultation and we do not offer accounts.  Receipts of payment can be emailed at the end of the consultation ensuring your horse records are always kept up to date and at hand.  Our practice generates reminders and can let you know when your horse is due for booster vaccinations or dental treatment.  This is just another thing that we can do to make your life easier.
Dr. Allie Corripio BSc (Pre-Vet) DVM CMAVA
Allie grew up in Albury NSW and has been involved with horses all her life through farm work, pony club and camp drafting.  Allie completed her Doctor of Veterinary Medicine at the University fo Adelaide in 2014.  She commenced work at Goulburn Valley Equine Hospital (where her love of equine reproduction began!) in Victoria before moving to the US to complete a 12 month rotating internship in Equine Medicine, Surgery and imaging at the Alamo Pintado Equine Medical Centre in California.  After moving back to Australia she was practicing in an equine clinic in Western Australia before being lured back to the the east coast.  Allie has a keen interest in equine reproduction, equine dentistry and internal medicine.
Outside of work Allie enjoys cooking, scuba diving, running marathons (superwoman!) and practicing her spanish with her equine veterinarian husband Dr Cesar Corripio.
Dr. Cesar Corripio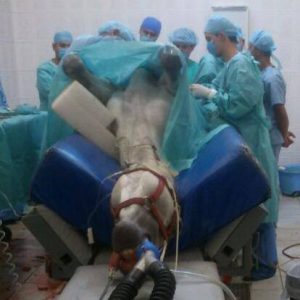 Cesar grew up in Mexico surrounded by horses and animals. Graduating in 2013, Cesar spent his time in various practices including a residency at Contadero Equine Hospital and running his own private practice.  Cesar also completed a veterinary externship at Alamo Pintado Equine Medical Centre before being lured to the shores of Australia with fiancée (and now wife) Dr. Allie (above).
Cesar also has a diploma in equine gastroenterology and has completed the course of veterinary medicine at the Mexican Equestrian Federation.
In his spare time Cesar can be found surfing, skating, travelling and scuba diving. With a quick wit and an arsenal of jokes, he also has a degree in Tourism, and is also a lifeguard!