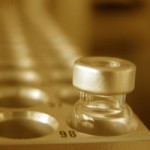 A full range of general consultations and examinations are offered to horses of all breeds and disciplines. This may be for reasons such as coughs and colds, wounds, colic, diarrhoea, lumps and bumps, sore eyes, lethargy, poor performance workups, lameness, foot conditions and simply when 'something isn't right'.  All diagnostic equipment (x-ray equipment, ultrasound) is portable and available to use immediately as required.
As a service to our clients, most visits within normal working hours are also attended by our dedicated equine veterinary nurse.  Our popular Pre-Purchase Examinations ('vet checks') are usually performed at the horse's home, allowing for a relaxed atmosphere without the inconvenience, expense and stress of having to transport a horse to an unfamiliar environment. Lab samples are collected daily, allowing a fast turn around for results.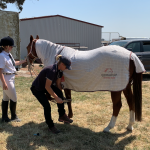 All oral examination and dental treatments also receive a general health check and free sheath clean and bean removal (for geldings and stallions) as part of the package.  Other services such as microchipping, lameness examinations etc can also be carried out during the same visit if required.
Also available is dietary and nutrition advice, parasite control programs, pathology services (blood tests, cytology, histopathology etc), diagnostic xrays and treatment of laminitis, joint injections etc.  At this current time we are not providing ET (embryo transfer) or major surgeries (ie colic surgery).  We are able to refer you to another suitably qualified practitioner or equine hospital depending on the individual case. There are stable facilities for patients that require more intensive care than can be offered in the field.
Portable Crush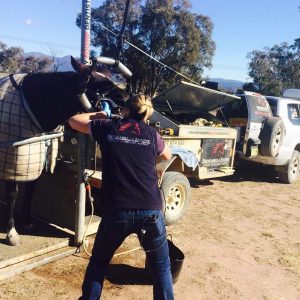 BEMVS utilizes the latest in professional patient care with the custom designed portable crush.  This is towed behind the car and can be setup by one person in under one minute.  The crush is lowered down on a winch, the sturdy rubber lined floor is lowered and the horse safely loaded.  The crush is a very 'open' design, with the doors on three sides able to be opened so horses feel they are taking a small step up onto a sturdy platform as compared to walking into a dark, enclosed space like a float.
The portable crush is really a mobile clinic, it incorporates digital weighing scales, holds all of the dental equipment and also carries the liquid nitrogen tank and freeze brands.
The portable crush provides a safe environment where your horse can effectively be restrained for any diagnostics or treatments that are required.  Not only is this a very professional way of treating horses, it also greatly reduces the OH&S risks to clients and to ourselves, and ensures that the horses stay safe.  What you WON'T see are sedated horses stumbling around, clients having to hold the horses head up for dental treatment, people getting hurt when a horse unpredictably 'explodes' or the vet getting kicked when performing reproductive ultrasound examinations (mare scans).  Approximately 750 horses a year go through the crush, and it is has proven to be a very reliable and safe method of restraint.