Artificial Insemination (AI)
Artificial insemination in horses involves collecting semen from a stallion, processing the semen and placing it into a mare's uterus at a specific point in her oestrus cycle.  This can be done if the semen is fresh, chilled (allowing overnight transportation) or frozen (allowing indefinite storage).  The pregnancy rate for chilled and frozen semen is generally accepted as being lower as compared with live cover and this can vary greatly depending on the age and health of both the mare and stallion and expertise of ensuring that semen is inseminated at the best possible time.
Our sets fees include follicle testing, insemination and post ovulation scanning at a per cycle rate.  The semen is also evaluated under the microscope and evaluated for progressive motility.  This is inclusive of the more common reproductive drugs such as oxytocin and pro-ovulation drugs such as deslorelin or chorolon.   Our facilities include a secure crush with an adjacent foal crush to keep your valuable animals (and us!) as safe as possible.
What isn't included:
Our competitive fees do not cover the more infrequently used drugs such as sedation for nervous or difficult mares, systemic antibiotics or other reproductive drugs such as Regumate.  Nor does it include any swabs or uterine biopsies, caslick operations or other investigations of fertility.  Agistment is charged at a competitive daily rate.  Pregnancy tests (performed via ultrasound) are advised to be performed at 14-16 days and 45 days post ovulation.
Chilled semen
Mares are followed throughout their cycle and are inseminated at the appropriate time.  Many clients from outlying areas prefer to bring the mares in to the centre to save on travel costs, this also allows us to follow the mares closely (scanning them as often as we need), therefore enabling us to inseminate them at the best possible time, allowing for the best possible outcome.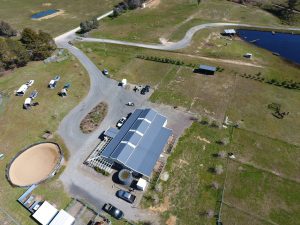 Frozen semen
Frozen semen is generally delivered to our centre and stored at our facility before the mare is ready to be bred.  Frozen semen artificial insemination is much more labour intensive compared with chilled semen insemination as mares need to be monitored more closely (scanned around every 4-6 hours), as the semen has a shorter life span (allowing less time for the semen to reach the oocyte (egg) for a pregnancy to occur).  It is important to note that we do not use 'fixed time inseminations' as other vet clinics do, we monitor the mares closely as needed and inseminate them at the very best time – even if this is at 3am!  This allows us to maximize our conception rates.
Embryo transfer
Embryo transfer is an exciting procedure in which a very young fertilized egg (before it has implanted into the uterine wall) is flushed from the donor mare's uterus, evaluated and graded then washed and prepared for implantation into a recipient mare that is at almost the exact same stage of her oestrus cycle.  This procedure allows for donor mares to continue their athletic career while still 'having a foal'. More recently we have introduced embryo freezing and storage.
Once the embryo has been flushed, graded, washed and prepared, it is transferred into a recipient mare that has previously been prepared and monitored.  This allows minimal time out of performance for your mare and lessens the risk of injury due to transport etc.  Please contact us should you wish to discuss this service.
Please contact us for more information.